Sunday, May 5, 2019 at 4:53AM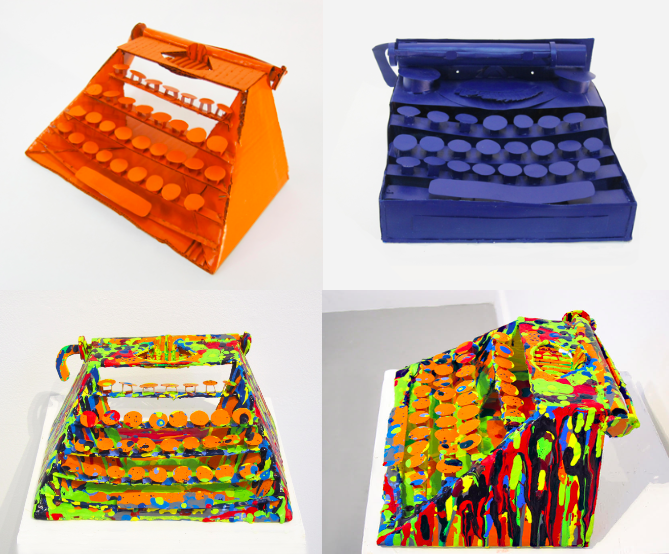 Typewriters (Paper) by Zehra Khan

Our consultants can help you edit your drafts, prepare your submissions, and find places to submit! Contact us for customized submission assistance.

If you would like to receive the Submission Sunday list by email every other Sunday, please sign up for the WWLA newsletter.

The Los Angeles Review 2019 Literary Awards (Deadline June 30 – $1000)
The Los Angeles Review, an annual print and online literary journal established in 2003, is the voice of Los Angeles, and the voice of the nation. With its multitude of cultures, Los Angeles roils at the center of the cauldron of divergent literature emerging from the West Coast. Perhaps from this place something can emerge that speaks to the writer or singer or dancer or wild person in all of us, something disturbing, something alive, something of the possibility of what it could be to be human in the 21st century.
Prizes include a $1000 honorarium and publication via LAR Online and in the best-of annual print edition of the Los Angeles Review, issue no. 24, set to be released in 2020. Matty Layne Glasgow will judge in poetry, Tammy Lynne Stoner will judge in fiction, Brittany Ackerman will judge in flash fiction, and Adrianne Kalfopoulou will judge in nonfiction.

Gay Magazine Call for Submissions and Pitches (Chapter 1: Pleasure – Deadline May 17)
Gay is a new publication partnership between Roxane Gay and Medium. Laura June Topolsky is the Deputy Editor and Kaitlyn Adams serves as Managing Editor. We will be publishing work weekly, covering a wide variety of topics. We will also assemble ambitious, compelling quarterly themed issues. We are now accepting submissions, on a rolling basis, and look forward to hearing from new and established writers who possess original voices. Gay will offer some of the most interesting and thoughtful cultural criticism to be found on the Web. We are interested in deep explorations, timelessness, and challenging conventional thinking without being cheap and lazy.
Chapter 1: Pleasure. What pleases you or brings you pleasure? Is it good for you, or not? Does it matter and how much does it matter? Is pleasure more or less valuable to you in the face of broad, generalized political unrest? How do we allow ourselves to enjoy and revel in pleasure? We seek pieces ranging from around 1,200 to about 3,500 words. But what pleases *us* most is quality, so we're not going to focus unduly on length.

American Chordata Call for Submissions (Deadline May 15)
American Chordata seeks short works of original fiction, nonfiction, poetry, and translation. We have no formal word limits or stylistic constraints but look for work that is brave, illuminating, and emotionally detailed.
American Chordata is a biannual literary and arts magazine that's beautiful to look at; packed with bright voices in fiction, essay, poetry, art, and photography; and curated by weirdos who love brave new writing as much as you do. Each issue of American Chordata is published both online and in print.

Geometry Call for Submissions (Deadline June 1)
Geometry is an international literary endeavour. We seek to publish outstanding literature from our home country, Aotearoa New Zealand, and from around the world. We are a digital and print publication dedicated to featuring work by both established and emerging writers. We place no limitations on style or content. Our criterion is distinctive and intelligent writing. We seek fresh voices. We seek diversity. We seek work that captivates and challenges. Geometry accepts submissions of literary fiction, nonfiction, graphic narrative, art and poetry.

Backbone Press Lucille Clifton Poetry Prize (Deadline June 15 – $500)
The Lucille Clifton annual poetry contest, held each spring, honors the prolific work of the late poet great. Widely celebrated for her unpretentious and unapologetic poems, Clifton's unique free verse was free of punctuation, taut, and always recognizably her.
Backbone Press has been publishing diversely since 2012. We debut and support writers who are considered marginalized voices and whose work may not be published elsewhere. Our press was started as a response to the bleak state of diversity in publishing. We believe, in art, but certainly the literary arts, every voice is essential. Without the political, protest, diasporic, voices of the poor, and even prison writing we have no distinctions. Our publications are necessary bridges, particularly in terms of generational, gender, and racial lines. In addition to informing, they engage us in broader cultural conversations.

The Baltimore Review Call for Submissions (Deadline May 31)
The mission of The Baltimore Review is to showcase Baltimore as a literary hub of diverse writing and promote the work of emerging and established writers. The Baltimore Review was founded by Barbara Westwood Diehl in 1996 as a literary journal publishing short stories and poems, with a mission to showcase the best writing from the Baltimore area, from across the U.S., and beyond. Our mission remains just that. However, in our online format, we can now bring that fine writing to the world's attention, more frequently, and at less cost. We can also explore new ways to bring the world of writers and writing to the reader's attention.
The journal grew to become a nationally distributed journal, and later became an independent nonprofit organization in 2004. Susan Muaddi Darraj led the journal from 2003 to 2010, expanding contributions to include creative nonfiction and interviews. In 2011, Barbara Westwood Diehl resumed leadership of the journal. In 2012, The Baltimore Review began its new life as a quarterly, online literary journal. This doesn't mean that we've fallen out of love with the printed book. Work accepted for online publication will also be collected for annual print issues.

AGNI Call for Submissions (Deadline May 31)
AGNI is a literary magazine housed at Boston University and known "among readers around the world," as the writers group PEN put it, "for publishing important new writers early in their careers, many of them translated into English for the first time." The print magazine appears twice yearly, in late April and late October. A very small portion of each is reprinted on this site, but you'll also find a trove of writing published exclusively online, including categories like reviews and interviews that we tend not to feature in "the print."
Most of the writing we publish comes to us unsolicited. Our authors and translators include Sharon Olds, Patricia Smith, Stephen Dixon, Donald Quist, Joan Wickersham, Michael Mejia, Maurice Carlos Ruffin, Rita Dove, Victoria Lancelotta, Jo Ann Beard, Peter Balakian, Noah Warren, Jenny Xie, Kaveh Akbar, Magdalena Tulli, Marilyn Hacker, Dorthe Nors, Bruce Smith, Cyrus Cassells, Melanie Rae Thon, Susan Bernofsky, Jill McDonough, Robert Long Foreman, Paisley Rekdal, Patrick Modiano, Lia Purpura, Anna Journey, and Maggie Smith.
Cherishing our differences as much as the verities we share, we are drawn to writers of every creed, race, orientation, gender, ethnicity, culture, national origin, age, and experience. We're especially proud when we can lay claim to being the first to publish a new writer or translator.

The Studios of Key West Residency Program (Key West, FL – Deadline May 15)
The Studios offers a residency program for emerging and established artists and writers designed to encourage creative, intellectual and personal growth. The program grants nearly 35 artists each year the time and space to imagine new artistic work, engage in valuable dialogue and explore island connections.
The Studios' residency program is community-based and built upon the hope that visiting artists will take inspiration from Key West's rich artistic past and present, and will engage with — and be inspired by — the remarkable people and culture that surrounds them.
Key West's official motto, "One Human Family" reflects our commitment to living together as caring, sharing neighbors dedicated to making our home as close to paradise as we can. To that end, we encourage artists of all races, nationalities, gender identities, sexual orientations, and abilities to apply. Residencies are almost a full month, and run from the 16th of the month through the 14th of the next.
Upcoming Deadlines

BOMB's Biennial Fiction Contest (Deadline May 5 – $1000)
American Chordata Call for Submissions (Deadline May 15)
PEN America Writing for Justice Fellowship (Deadline May 15)
The Studios of Key West Residency Program (Key West, FL – Deadline May 15)
Gay Magazine Call for Submissions and Pitches (Chapter 1: Pleasure – Deadline May 17)
New Letters Conger Beasley Jr. Award for Nonfiction, Patricia Cleary Miller Award for Poetry, and Robert Day Award for Fiction (Deadline May 20 – $2500)
AGNI Call for Submissions (Deadline May 31)
The Baltimore Review Call for Submissions (Deadline May 31)
Geometry Call for Submissions (Deadline June 1)
Contrary Magazine Call for Submissions (Deadline June 1)
Boulevard Poetry Contest for Emerging Poets (Deadline June 1 – $1000)
Backbone Press Lucille Clifton Poetry Prize (Deadline June 15 – $500)
The Wax Paper Call for Submissions (Deadline June 30)
The Los Angeles Review 2019 Literary Awards (Deadline June 30 – $1000)
tagged
submission,
submission sunday